NME Interview @ The Caravan
NME
2/13/10 @ The Caravan
San Jose, California
By Josh Kutras
____________________________________________________________________________
Offensive songs about dicks, dumps, homophobia, and drug overdoses have been NME's trademark since the late nineties. After a short hiatus NME returns to the scene with a new new bass player and hot new release Bin Laden Airlines.  We caught up with the irreverent trio before a live gig at the Caravan in San Jose.
Stubble: Alright so I'm gonna go around the table here introduce yourselves; who you are what you do.
Peter: I'm Peter, I play drums.
Mike: I'm Mike, I sing and play guitar.
Henry: I'm Henry, I play Bass and sing.
Stubble: So you guys are playing songs tonight off of your new album Bin Laden Airlines; Can you tell us about the record, the title, where it came from?
Mike: I was actually on these San Jose streets as we know, so well here, in Downtown San Jose; and uh, I was actually on Market Street and I thought of the song title and I wrote the first chorus right there. It came together in like 5 minutes, then I had a whole new riff and it came together right there, bam baby…bam.
Stubble: So what's it all mean? What's the concept?
Mike: I think it's just poking fun at everyone who's a dumb racist, and just short sighted, stupid and arrogant. I like poking fun at them, and so Bin Laden Airlines is directed at all these scared housewives … (laughs) Anyway, it takes that image of the scared people in the world flips it on them and we make fun of them; all the time.

Check out new video Bin Laden Airlines Directed by Henry James Thomas
Stubble: So you guys had a hiatus, you were gone for a while now your back, got a new member here (points at Henry) Where did you guys meet?
Peter: I've known Henry for probably about… Seven years. I played in Kenny Thomas and the Southern Baptists with him, and a couple of other bands, and he's always been a good friend so; he's the ninth bass player we've had, and we just kept going through bass players left and right so…
Mike: … He's gonna fuck your wife.
Peter: Maybe nines our lucky number we'll see.
Stubble: (to Henry) So how's it playing with these two guys?
Henry: It's like a childhood dream (everyone laughs) You know being a teenager growing up listening to punk rock, playing in punk rock bands for the first time and stuff like that; uh I listened to NME a lot because, they were like the band that in the scene here in San Jose and downtown Campbell that all the high school bands looked up to so… When they went on their hiatus, at first I was like "Dude, let me sing for your band, let me sing for your band!" and then later on down the road I started playing bass for them so…It's pretty cool. My goal was achieved! (laughs)
Mike: A dream becomes a reality!
Peter: He was in front of our face the whole time and we didn't even realize it. He played bass in like two other bands, and I'd hang out with him like 3 days a week I just never put the two together.
Stubble: What can people expect from an NME show?
Mike: Fun.
Peter: We also have a lot of different sounding songs now, not just punk rock; it has more of a Rock 'n' roll feeling too. You can expect a lot more diversity it's not just gonna be one tempo, one feel or whatever…
Henry: A lot of Elvis kicks you know…
Mike: Lot's of twirls…
Stubble: So what's next? After the money starts rolling in?
Mike: Well, printing the CD, shows at the Avalon, masturbation; guaranteed. Writing other songs, another record; we want to take it to the next level. I want to play in front of hundreds of people, and then thousands; and have a great time doing it
Peter: We have a new song called pool party, we recorded it and now we just have to do a video for it.
Stubble: Can you give us a verse out of Pool Party?
Mike: Ok, uh… "A pool party at my house at 8 don't be late, B.Y.O.B fest, and I can't wait" There you go, huh?!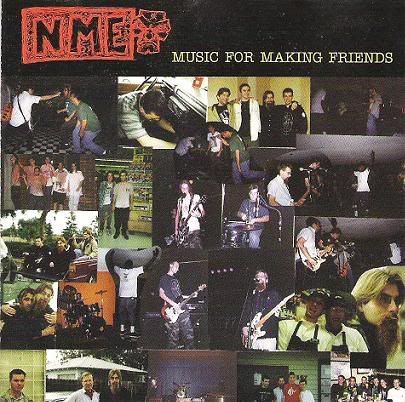 Stubble: It's the next Rock 'n' Roll all night!
All: (laughing)
Stubble: Anything to add on the sign off?
Peter: Look for another CD soon, I mean we almost have another one in the can. So after Bin Laden Airlines we'll have another one; and by the time that one's out we'll probably have another one. So… we'll have stuff out. We also have OxHead records.com coming April 15th, 2010
Mike: Lotta stuff on the horizon, lotta cool things.
Check out NME – NMErocks.com and on myspace.com/nme
Edited : Jeff Longo
Video & Photos: Jeff Longo
Intro and Transcription: Josh Kutras